Deleting a Staff Member is as easy as adding a new one! These steps will walk you through the process.
Step 1:

Visit the Staff Members page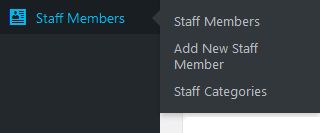 You can find this menu under Staff Members » Staff Members.
Step 2:

Select a Staff Member to Delete

Hover over a Staff Member in this list to reveal the Trash link. Clicking this link will move the Staff Member to the Trash (this action can be undone).
Step 3:

Finished!

You're all done! If you ever want to restore this Staff Member, you can find it in your Trash folder. However, once you Empty your Trash it will be gone forever.