Installation
Upload the plugin folder to your plugins directory. Once installed and activated, you will have access to the features shown in the below screenshots.
Follow Our 3-Step Easy Install Process!
Step One: Go To The Plugins > Add New Menu, and Then Click Upload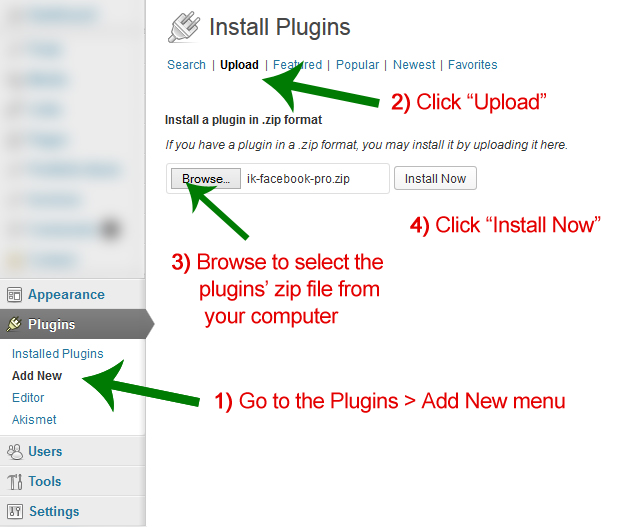 Step Two: Wait For WordPress To Install The Plugin, Then Click "Activate Plugin"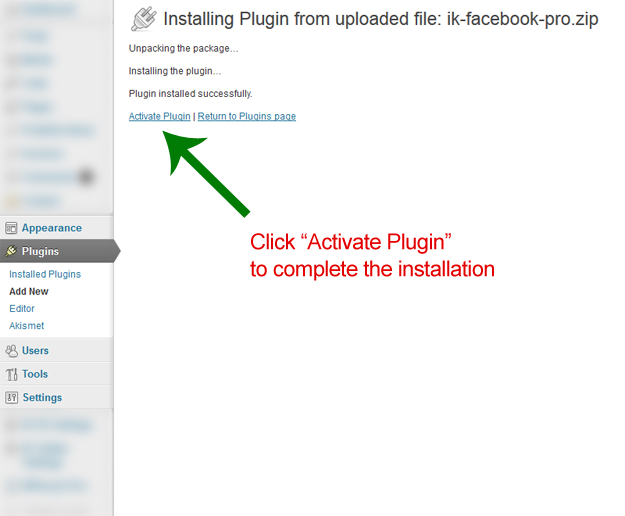 Step Three: Configure Your Settings
You're all done! Now its time to configure your settings. Just click the "Social Settings" menu in your WordPress admin to start configuring WP Social Pro.
Next Steps: Add Your Facebook Feed To Your Website!
With the plugin installed and activated, you can now add a Facebook Feed to any page of your website using the Shortcode, or as a widget in your sidebar.
Here's some quick links to get you started:
Click Here to read the full instructions.
Having Trouble? We'd Love To Help
If you're having trouble getting setup with WP Social Pro, just send us an email and we'll be glad to help.
Gold Members: Free Installation Is Included
Gold Members, would you rather have us to install the plugin for you? We'd be happy to do just that. Just send send us an email with your details, and we'll be happy to help.
Not a Gold Member yet? Click here to subscribe.
Get The Plugin Now
Do you need a copy of WP Social Pro? Click Here for pricing options.