To add a search form for your Staff Members, please follow these simple instructions. You'll be able to choose from the Basic and Advanced Search forms, the latter of which lets your visitors search by First Name, Last Name, and Department.
Displaying The Search Form on Any Page or Post
First, create or edit the Page or Post where you would like your Staff Search Form to appear.
If you're using WordPress 5 or newer, simply add a new Search Staff – Advanced (or Search Staff – Basic) block to your page or post.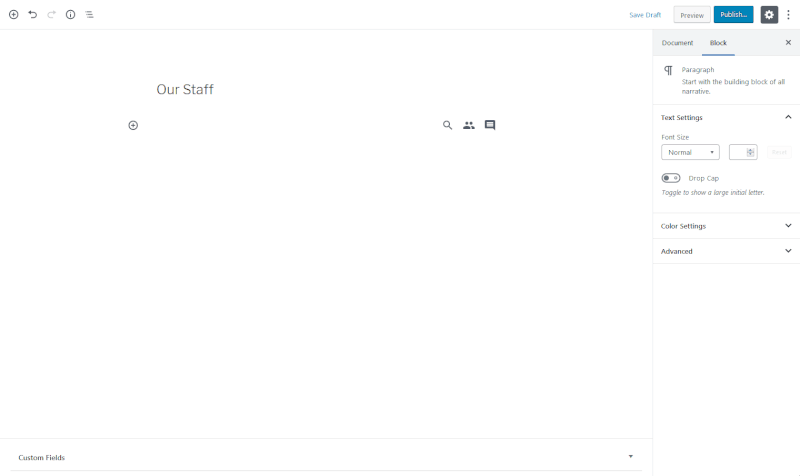 Displaying The Search Form In Older Versions of WordPress or Using the Classic Editor
If you're using an older version of WordPress, or using the Classic Editor, you can use shortcodes to add the Staff Search Form to your website. Simply click the Staff menu above the post editor (near the Add Media button), and choose Search Staff Members.
This will insert a shortcode into the editor for you, which will display the Search Staff Form.
Displaying The Search Form with a Shortcode
You can also simply add the shortcode [search_staff_members] to any page or post on your website to display the Search Staff form. The search box will appear right where you've placed the code, so feel free to add any text around it.
Tip: You can also use this method add the Search Staff Form directly to any theme, using WordPress' do_shortcode function.
Adding the Search Staff Form to a Sidebar Using the Widgets
If you'd like to add the Search Staff Members form to any sidebar or other widgetized area, simply add the Company Directory – Search Staff Members widget to your sidebar and click Save.